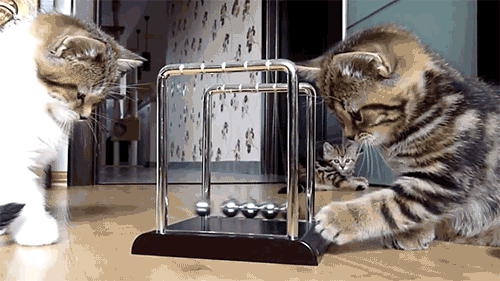 This blog post is a recap of my session at Agile Goa 2013. I am writing this to benefit the attendees as well as all readers.
Look at these kittens. Aren't they curious? What is this apparatus these kittens are playing with? Aren't you curious? It is Newton's Cradle.
What is Newton's Cradle? It is an apparatus used to explain the law of conservation of momentum and energy. More info on this at
http://en.wikipedia.org/wiki/Newton's_cradle
.
We need to be curious. In order to learn effectively and efficiently, we need to be curious about how we learn. Some of us may feel that learning is a done deal. We are out of our college or university education. We are employed. And we settled down with a feeling that learning is not compulsory. Do you think so?
"Learning is not compulsory, neither is survival." - W. Edwards Deming
How true! With an open mind and continuous learning attitude, you stay young, current and relevant!
"Anyone who stops learning is old, whether at twenty or eighty." - Henry Ford
And to become a master in your field you need to know a secret.
"The secret to mastery in any field is to forever be a student." – Martin Palmer
Learning is not limited to children.
"Learning is what most adults will do for a living in the 21st century." - Alfred Edward Perlman
How can we enable learning? How can we enable learning by creating curiosity?
"You can teach a student a lesson for a day; but if you can teach him to learn by creating curiosity, he will continue the learning process as long as he lives." - Clay P. Bedford
Agile methods emphasizes on team learning. Do you want to know how and why?
Read
Why Agile Teams Need to Know How to Inspect and Adapt?
Inspect and Adapt can be applied everywhere if you and your teams are ready to implement. To know more on this read
Inspect and Adapt: Simply a Great Agile Deal?
We express our curiosity in terms of questions. Are you afraid of asking questions?
"He who is afraid to ask is ashamed of learning." – Danish Proverb
"The illiterate of the 21st century will not be those who cannot read and write, but those who cannot learn, unlearn, and relearn." - Alvin Toffler
Also Read (to know about 'Learning Styles' and more):
How Do We Learn – Part 1
How Do We Learn – Part 2